Happy Birthday, Elvis!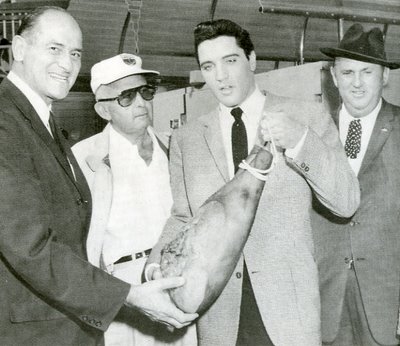 Had a bloated, doped-up Elvis not died on his bathroom's shag carpet, gold pajama bottoms around his ankles, face-down in his own vomit, he would've turned 72 today.
I wrote this last year
-- on what would've been his 71st birtday -- which drew some awesome
comments
.
Here's a photo from September 1962, taken at the old monorail station in downtown Seattle. In town filming
It Happened at the World's Fair
, Elvis presents a smoked ham to Washington Governor Albert Rossellini, as a Memphis Mafioso and Col. Tom Parker look on. It was supposedly Rossellini's idea for the film, as he wrote a letter to MGM proposing they use the Century 21 fair a backdrop for an Elvis vehicle.
***
Labels: Elvis, Happy Birthday, Rock 'n' Roll