Postage Stamp of the Week: Phantom of the Opera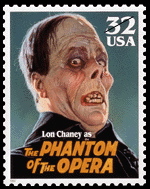 Mmm, October. My favorite month.
I love the changing seasons, the falling leaves, the overlap of baseball and football seasons, the back-to-school atmosphere, and especially Halloween -- bats, cats, witches, skeletons, ghosts, and jack o' lanterns everywhere... I also love the classic movie monsters associated with the holiday, like Lon Chaney's silent
Phantom of the Opera
, seen here on this 1997 stamp... Stay tuned for more cool Halloween stamps throughout the month.
And, BWT, I'm not one of those pretentious twits who write "Hallowe'en." Thank you.