Marguerite Sutherland, 1910-2008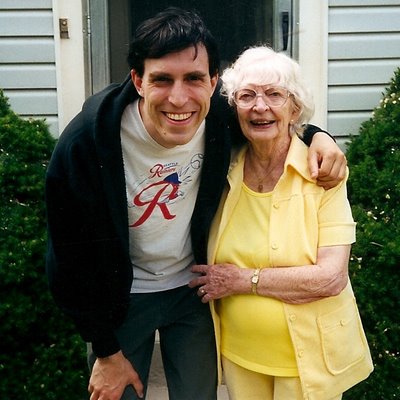 My 97-year-old grandma passed away this morning, on Mother's Day. Here we are together outside her Ellensburg house in 2000.
I'll post a short bio/obituary when I've finished writing it.
Here it is, posted on June 11:
Marguerite Sutherland died peacefully on Mother's Day morning, Sunday May 11, 2008 in Auburn, Washington. She was 97.
Marguerite Alice Snover was born to George Henry and Minnie Louise Snover on October 24, 1910, in the family farmhouse near Snohomish, Washington. She was the oldest of eight children.
In 1916 the family moved to Roche Harbor, where George was employed by the Roche Harbor Lime and Cement Company. Marguerite began school in Roche Harbor, but she missed a year of school due to the 1918 influenza outbreak.
Not long afterwards, the family moved to Hoquiam, where Marguerite graduated from Hoquiam High School in 1930. In 1935 she married Francis E. Jennings in Grays Harbor County, and the couple lived in Central Park. In 1937 they visited San Juan Island, where they bought property with the intention of someday making it their permanent residence. After the birth of two children, Marguerite Ann and Francis Edward, the family did finally move to Friday Harbor in 1946, establishing a business in the community.
Marguerite spent the next 41 years on the island. After a divorce from Francis, she lived in a house on Friday Harbor's Marguerite Place, which was named after her. On November 16, 1973, she married island resident Walter L. Sutherland. The couple lived in a beachfront house at the end of Sutherland Road, from where regular ferry traffic in and out of Friday Harbor could be seen. Walter died in February 1977, but Marguerite continued to live in the house until 1987.
Marguerite was regularly visited there by her children and grandchildren, enjoying many fun times on the beach in front of her house. She also avidly pursued her favorite hobby, crafting handmade braided rugs, which often won blue ribbons at the San Juan County Fair. As a longtime member of Friday Harbor Presbyterian Church, she also had over 50 years' membership in the Order of the Eastern Star, in which she served as Worthy Matron.
In 1987, Marguerite moved off the island to a house in Ellensburg to be closer to her four younger sisters, Caroline, Myrtle, Geneva and Betty, and their families. She also had three younger brothers, George, Phillip and Stanley. While in Ellensburg, she expanded her crafting skills to quilt making, winning a grand prize at the Kittitas County Fair.
As her health had deteriorated in recent years, she moved to son Fran's and wife Judy's home in Bonney Lake in 2003. In 2005 she moved to the Tugade family's home in Auburn, where she spent her final three years.
Marguerite's sisters Geneva, Caroline and Wynona preceded her in death, as did brothers George and Stanley. She is survived by sister Myrtle Withers of Kettle Falls, Washington, brother Phillip Snover of Coupeville, Washington, daughter Margarite Jennings of Friday Harbor and son Francis (Judy) Jennings of Bonney Lake, Washington. She is also survived by five grandchildren: Linda Joanou (Rudolf Geissman), Cheryl Jennings (Richard Klima), Steve Mandich, Brady (Kendra) Jennings, Clark (Cara) Jennings, plus six great-grandchildren and numerous nieces and nephews. She will be greatly missed by all.
A memorial service was held at son Fran's Bonney Lake home on June 7.