Bigfoot, Evel Updates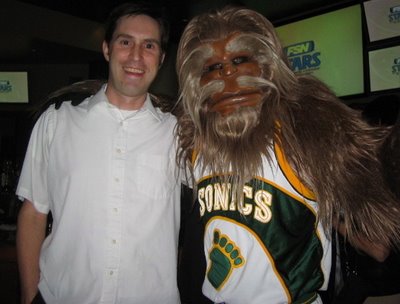 Today I updated three pages on my site with some new tidbits...
Added to
Bigfoot Is Real
: The above picture of me and the creepy Seattle Supersonics mascot, whom I met earlier this month. Turns out I'm actually taller than Squatch, though I still can't bounce off a trampoline, somersault through the air, and dunk two basketballs at once. Incidentally, because I'm afflicted with red eyes in flash photos, my eyes look weird here 'cause I used the "Red-Eye" function in iPhoto. However, I didn't use the function on the new photo near the bottom of
Bigfoot Is Real
(scroll down), showing a creepy, red-eyed Bigfoot statue spotted over the weekend outside a Federal Way chiropractic clinic...
Added to
Knievel Rock: The Evel Knievel Discography
: Some blurbs about the Flaming Lips, Robbie Knievel's daughter Krysten's upcoming album, and an Evel-inspired CD cover by a group called the Burden Brothers. Sorry, no direct links to these items, but you can easily text-search the Knievel Rock page for those specific terms...
Lastly, added to
Knievel Comedy: The Evel Knievel Humorography
: A very brief clip of Evel, Muhammad Ali, and the host of the short-lived 1975 variety show
Saturday Night Live with Howard Cosell
, Robbie and Crash Bandicoot in a 1990s
PlayStation commercial
,
two
videos
of guys playing with their wind-up Evel dolls, and a link to a clip from last night's episode of
Cheap Seats without Ron Parker
, an
MST3K
-style sports comedy show on ESPN Classic. Unfortunately, nobody I know gets ESPN Classic, so if anyone out there wants to tape it for me...
***
Labels: Bigfoot, Evel Knievel