¡Tiburón!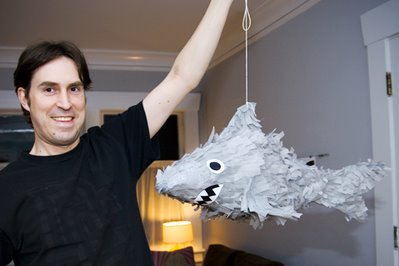 Eliza
and I made this crazy shark piñata for our pal Sean's birthday fiesta last night. (Why? It was a Mexican-themed party, and Sean's obsessed with sharks.) This is how he looked
under construction
, and here's another look at the
finished product
...
¡Aieeee!
Another shark-related thing from last night -- I saw on TV we have a new pro sports franchise in town, the
Seattle Tiger Sharks
. A shark wearing boxing gloves... Now I've seen everything!
Go Seattle Tiger Sharks!