Thunderstruck, Yeah!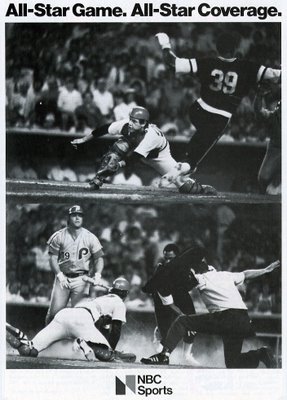 Tomorrow night in San Francisco,
Ichiro
'll will play in his seventh
All-Star Game
(and make his sixth start), while Mariner closer
JJ Putz
will make his first All-Star roster. Overall, in the 31 All-Star Games played during the 31 seasons of Mariner baseball, the franchise will have sent 33 different players to the midsummer classic... Here's my breakdown of
every Mariner All-Star since 1977
, which I'll update in its
comments section
following tomorrow's game.
BWT, AC/DC's "Thunderstruck" blares at Safeco Field whenever Putz comes in to close a game, while Usher's "Yeah!" often plays when Ichiro steps up to bat... And the cool Fisk/Parker/Luzinski sequence above comes from an ad in my program for the
'79 All-Star Game
, depicting action from the '77 game at Yankee Stadium.
***
Labels: Baseball, Ichiro, Seattle Mariners