I Am Spokane (And So Can You!)
Last weekend Eliza and I made the longest trip I've ever taken without leaving the state. Eliza's never been to Spokane, and I've only visited once before, wandering around the old
Expo '74
fairgrounds one afternoon in 1999. We found marmots, a goat, an elephant, and Bigfoot.
Sunday began with breakfast at the
Big Foot Pub & Eatery
, and later we dropped by the Lil' Bigfoot tavern. In between we visited
Spokane Community College
, where the athletic teams are nicknamed Bigfoot, the student paper is the
Sasquatch Times
(no link), and there's a big foot-shaped concrete bench outside the student union. Across town, the
Spokane Falls Community College bookstore
has lots of "Bigfoot" merch, much of it bearing this
logo
. (For more Bigfoot-in-Spokane pix, check out my updated
In Search of Bigfoot
page.)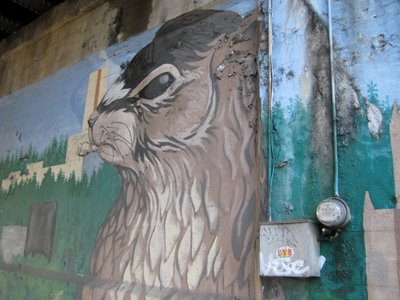 Spokanistan supposedly has scads of
marmots
in downtown's Riverside Park--site of the '74 World's Fair--but the only ones we saw were in this ridiculous marmot mural painted underneath an ancient railroad bridge. We explored the park, but the
Sky Ride
was hardly worth the $7 ticket, and I was disappointed we couldn't go up in the
clock tower
. We were more impressed by the nearby
Parkade, as photographed by Eliza
.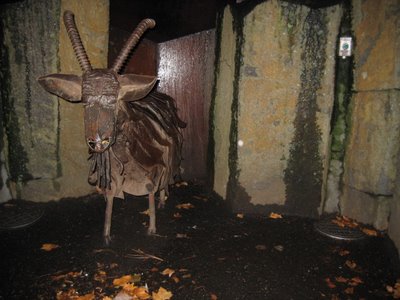 Seattle may have its Space Needle from the '62 World's Fair, but our favorite Expo '74 remnant is the interactive
Garbage Goat
, a high-powered vacuum that sucks trash through the mouth of this metal goat sculpture. After pushing the button (seen to next to the goat in the picture above), there's about 25 seconds of suction to "feed" the goat garbage. I'd do more housework if we had one at home.
We ate quite a lot ourselves, at
Dolly's
diner,
Frank's Diner
and the
Steamplant Grill
. Saturday night we drank beer, rocked the jukebox and played pull-tabs at downtown's comfortably seedy Lamp Post tavern. We also hit nearly every Inland Empire thrift store, where Eliza scored lots of kitchen gear and I scored a '70s Mariners batting helmet, Nerf Ping Pong, Parchesi, a copy of
Danny and the Dinosaur
, and VHS tapes of
Sweatin' to the Oldies
and a Yakov Smirnoff show. But the coolest store is
White Elephant
, a cluttered old Chubby & Tubby-like business that sells loads of weird toys and games (Blow Soccer!?), guns 'n' ammo 'n' fishing 'n' camping gear, and boxfuls of discount Expo '74 trinkets. I picked up a program, a map, and an ashtray, all for a mere $2.10.
Oh, and we stayed at the lovely
Montvale Hotel
.
On the list for our next visit--perhaps in another couple years--are
Zip's
, the
city drive
, the
giant milk bottle
, and, depending on the time of year, the
Chiefs
or
Indians
.
We are Spokane. And so can you.