Happy 20th, Mudhoney!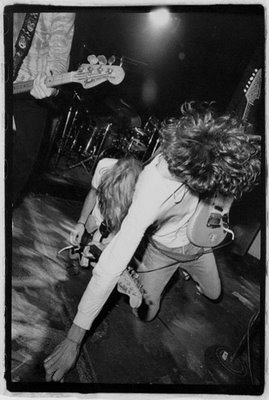 Mudhoney
hits the big two-oh today.
The Northwest's best-ever rock band met for their first-ever practice on New Year's Day, 1988.
Mudhoney
was soon hailed as
the
Seattle band back in the proverbial day, from the '88 release of their classic debut single ("Touch Me I'm Sick") up 'til when teen spirit stunk up the place.
After
Mudhoney
left Sub Pop (
the
Seattle label), they spent most of the '90s on a major, but the closest they ever came to the mainstream was a performance in a
Chris Farley
movie. In the '00s they returned to Sub Pop, and by now have survived intact for two decades, save for a lineup change at bass.
Mudhoney
's stayed true to their signature '60s-'70s proto-punk sound all along, with occasional dashes of freeform jazz, blues, and psychedelia. Singer Mark Arm, possessing the finest howl outside Detroit, continues to write killer songs, both sinister and snotty, dark and wry. It's fitting that they've opened for the reformed Stooges, and that their three original members also played in a Sonics cover band, and that Arm fronted a partially reunited MC5.
Their reign as kings of Seattle rock has long since passed, but a mess of releases and hometown shows all the while has kept longtime fans happy. Lucky for us, they're still around.
Mudhoney
can do no wrong.