We Hardly Knew Ye: Bo Diddley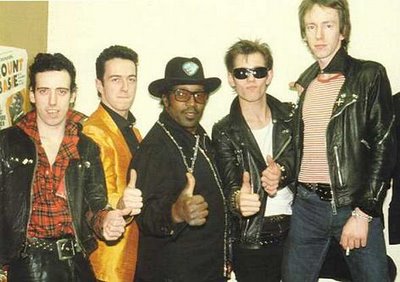 Sad news: Rock 'n' roll giant Bo Diddley died today at age 79 -- here's a quick
obit
, and a longer
bio
.
As with many other older performers, I didn't much listen to his stuff 'til I realized what a big influence he was on so many of my favorite bands: he toured with the
Stones
and the
Clash
and played a show here with
Mudhoney
. His tunes have been covered by the New York Dolls, the Yardbirds, Patti Smith, Girl Trouble and loads of others. And his signature Bo Diddley beat (
chunk, chunk, chunk, a-chunk-chunk
), has been aped by countless bands, like the Stooges in "1969."
The first time I recall seeing him was as a guest on
Late Night with David Letterman
in the '80s. In brief opening skit, Diddley and Letterman and Jane Pauley (another guest) talk about taking a road trip together. Dave says something like, "Hey, let's stay with Bo's parents in Missippi," to which Pauley responds, "That's great! I've never met the Diddleys!"