Bubblegum Card of the Week: Mudhoney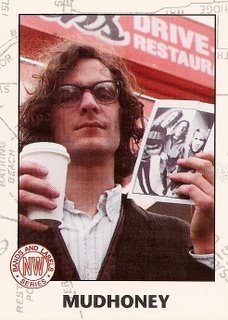 It's 1988 all over again.
Back in January I wrote about the 20th anniversary of
Mudhoney
; in May they released both a
solid new album
, and a kickass deluxe reissue of 1988's
Superfuzz Bigmuff
. Now this weekend they're playing at the big
Sub Pop 20th anniversary festival
. I'd sorta like to go, but it's a bit pricey for me, and the big outdoor suburban venue doesn't seem quite right. If anything, I'd be more interested in the
Green River
reunion.
Anyway, here's another card from the 1993
NW Bands and Labels
series. Apparently guitarist Steve Turner was the only Mudhoney to show up at
Dick's
for the photo shoot; at least he brought a promo photo depicting the other band members.