Killer Game Tonight!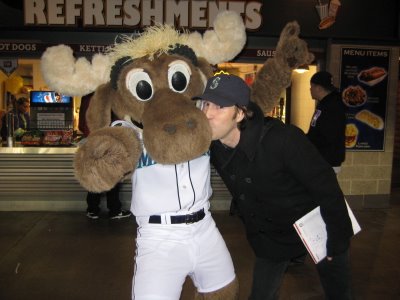 We couldn't get tix for yesterday's home opener, so we went tonight. Good stuff. Griffey hit his first home game home run after his return to the Mariners (his 400th career M's homer), and Ichiro made his '09 debut with a grand slam (his first since '03, which I also saw in person). Ichiro's salami tied countryman's
Isao Harimoto
's record for most career hits by a Japanese-born ballplayer, with 3,085. I got freaky with the Moose (above), and everybody wore
42
, though that made scorekeeping a little tricky.
And! The Mariners are off to a 7-2 start, tying the 116-win 2001 M's for the franchise's best-ever start. Deets
here
.
***
Labels: Baseball, Ichiro, Seattle Mariners