Metal Baseball Quilt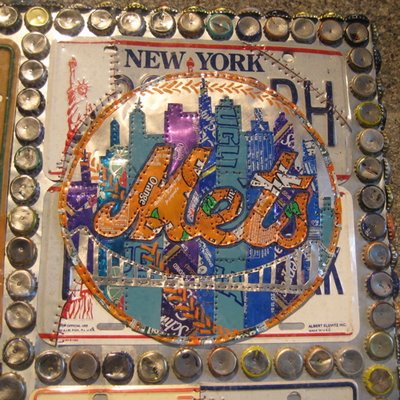 I've walked past
Ross Palmer Beecher
's art at Safeco Field a million times but never really stopped to check it out 'til today. It's super cool.
She made a giant quilt, with each piece representing one of baseball's 30 major league teams with their circa '99 logos, by stitching together aluminum cans and license plates from the teams' respective states.
Also, there's another dozen or so pieces based on various Washington state team logos from over the years, including the Seattle Pilots, Seattle Rainiers, Tacoma Rainiers, Everett AquaSox, and the Spokane Chiefs. Each mini-quilt has a square wooden frame with a unique baseball-themed painting, bordered by a bunch of bottlecaps.
My favorite is the Mariner Moose, rendered in A&W root beer cans.
On display since the park's 1999 opening, you can find 'em in main concourse along the right-field line.