Hello Wisconsin!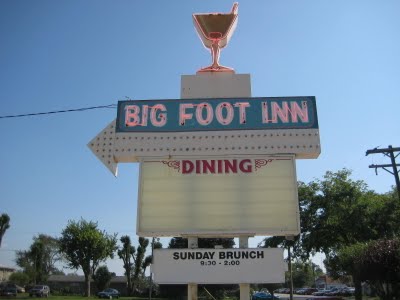 Right now I'm in Milwaukee, on what has sort of become my annual attend-baseball-games-in-places-I-haven't-been-before trip. After arriving at O'Hare yesterday, I hopped in my rental car and drove north to the Badger State, bringing my states-I've-visited count to 35. Right across the border is the community of Big Foot, where, along with the nearby town of Walworth, are several Big Foot attractions -- Big Foot Inn, Big Foot Car Wash, Big Foot Cemetery,
Big Foot High School
...
To my dismay, they all refer to a 19th-century Indian chief who once called the area home.
But wait!
Further up the road, near Lake Geneva, is
Bigfoot Archers
, where I
read
they use a full-size Bigfoot for target practice! When I got there he was locked in a storage shed (along with all these other full-size figures of lions, rabbits, zebras, etc.), but the guy who runs the place let me see him.
So here's
Miller Park
, home of the Milwaukee Brewers, the 25th stadium where I've attended a big-league ballgame (19 of which are still in use, the other six are defunct). Ballparks are often referred to as cathedrals, but this humongous stadium, with its giant glass-filled arches, fits the description far better than any other. Despite its location in a sea of parking lots and freeways (not to mention its meager beer selection -- they have any kind you'd want, so long as it's Miller), it's pretty fantastic. For the record, the Suds thumped the 'Stros,
11-2
, and Guido won the
Sausage Race
.
Speaking of wieners, here's
Superdawg
, Chicago's kickass hot dog drive-in, where I had lunch yesterday. Today I'm headed back to the Windy City, where I plan to hit more such spots. And a couple more ballgames.