Maine Was Killer
So yeah, like I said, Eliza and I spent a week with her parents in Maine. After a rotten red-eye flight to Boston, we flew into
Owl's Head
on a
Beechcraft 1900
(those turbulence-prone puddle-jumpers always make me nervous), then
ferried
from nearby Rockland through the fog to the town/island of
North Haven
.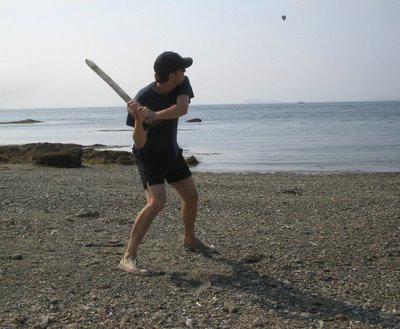 Our rental house was a short stroll from the beach, where I knocked dozens of rocks into the drink with a driftwood bat. We spent lotsa time lazing in the sun, reading and wading in the cold Atlantic. I tuned in the Red Sox's Rockland affiliate and listened to some games on the radio -- oddly enough, they played a three-game series in Seattle, and I heard that
wild Sunday-afternoon game
which the M's won, 8-7.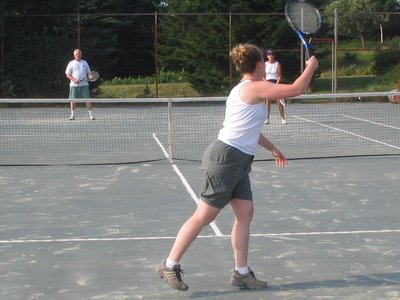 We also played lotsa tennis on an old clay court adjacent to the house, and in the evenings played lotsa Scrabble and Trivial Pursuit. I did lotsa crosswords and read
Rabbit, Run
and
Freakonomics
. One day a stupid little bat got into the house and spent most of one day napping in the rafters, before Eliza's dad cleverly trapped it and returned it to the outdoors.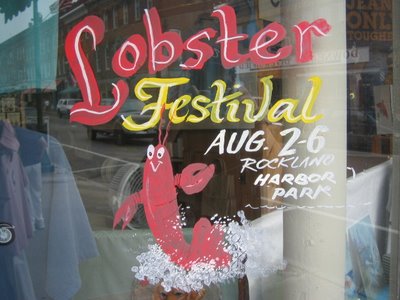 Yes, we ate lobster,
David Foster Wallace
be damned. We had a kickass lobster dinner at a restaurant on a pier, and later I lunched on a kickass
lobster roll
. Unfortunately, we were a week too early for Rockland's
Lobster Fest
. Maybe next year.
***
Labels: Baseball, Books, Seattle Mariners, Travel