Will They Float? Will They Float?
At Friday night's M's-A's game,
Oberto
sponsored a cool promotional giveaway: little Mariners hydroplanes. I love the three-way overlap of these local institutions, along with the Oberto-sponsored hydroplane races shown on Safeco Field's giant video screen. (Incidentally, as I type this on Sunday afternoon, I'm watching the hydroplane races on TV with the sound muted and the M's-A's game playing on the radio. Wish I had some jerky...) The diecast model scoots around on four wheels and also has an
FSN
logo on it. Will it float? No.
The Marniers don't sponsor an actual full-size hydroplane, but Oberto does. Oberto's "pepperoni-powered" hydro has roared around Lake Washington every year since 1975. I bought my mini R/C model at the
Oberto factory outlet
, but I can't get it to work. Will it float? Yes.
Here's a
Hot Wheels
hydro I bought a few months ago at
Bartell
. Like the M's hydro, it's also a four-wheel diecast model. It's the smallest and sleekest one I have, and I like its generic orange-white-and-blue color scheme. Will it float? No.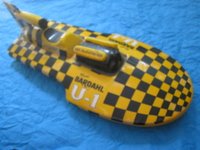 The fourth and oldest hydro in my modest collection is this 1968-style Miss Bardahl, which I assembled from a Casper model kit. I glued the plastic pieces together and painted it and stuck on the decals, though the end result looks kind of like a Vans shoe. (I didn't opt for the motorized version, though I suppose I could upgrade it later.) Will it float? Yes.

Unfortunately, I'm gonna miss the ends of both today's hydro races and the Mariners game -- I gotta go to a wedding.
***
Labels: Baseball, Seattle Mariners