Knievel Style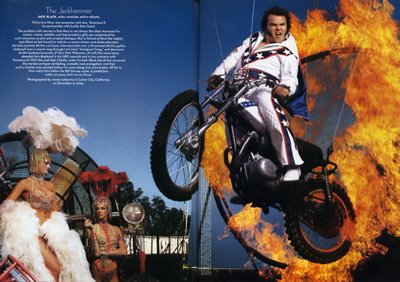 Anyone stumped for a Halloween costume at this relatively late date would do well to check out the latest feature on my site,
Knievel Style: The Evel Knievel Fashionography
!
Knievel Style joins
Knievel Rock: The Evel Knievel Discography
and
Knievel Comedy: The Evel Knievel Humorography
as another obsessive survey of Evel's influence -- both positive and negative -- on pop culture.
Jack Black, seen here in an Annie Liebovitz photograph from the March 2004
Vanity Fair
, is in all three! He accomplished the trifecta (or the Triple Crown?) on April 2, 2006, when he hosted Nickelodeon's
Kids' Choice Awards
. The Tenacious D member opened the show wearing an Evel suit (Style!) singing the Elton John via Weird Al song "Saturday Night's Alright for Sliming" (Rock!) while slinging green slime on the audience (Comedy!).
Actually, I think it was a hat trick.
***
Labels: Evel Knievel