It's Only Rock 'n' Roll
Yet I enjoy that.
Tonight I'm going to my fifth Rolling Stones concert, this one at Qwest Field. Here's a rundown of the previous four. Photos stolen from various online sources.
December 15, 1994
The Kingdome, Seattle
My first-ever Stones show, during their
Voodoo Lounge
tour (the highest-grossing rock tour of all time (unless their current
A Bigger Bang
tour surpasses it)). Highlights: "Rocks Off," "Beast of Burden," "Far Away Eyes," "Doo Doo Doo Doo Doo (Heartbreaker)," "Monkey Man," "Not Fade Away," "Brown Sugar."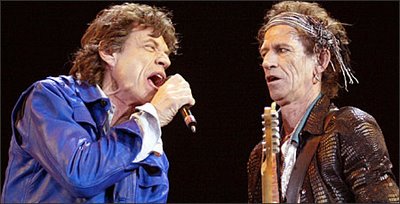 November 6, 2002
Tacoma Dome
I wrote this preview
for this, the first of two shows I saw on their
Forty Licks
tour. The token new song played at both concerts was the anemic "Don't Stop." Sheryl Crow's guest vocals stunk up "Wild Horses." Highlights: "Street Fighting Man," "Before They Make Me Run," "All Down the Line," "Midnight Rambler," "When the Whip Comes Down," "Gimme Shelter," "Brown Sugar."
November 14, 2002
San Diego Sports Arena
In the eight-day interim following the Tacoma show, Mick & Keith guest-starred as themselves on
The Simpsons
. In San Diego, I snuck down to the floor for the last few songs of the set, where I saw Bill Walton cheering them on. Sheryl Crow's guest vocals stunk up "Honky Tonk Women." Highlights: "Can't You Hear Me Knocking," "Neighbours," "Love in Vain," "Happy," "Bitch," "Brown Sugar."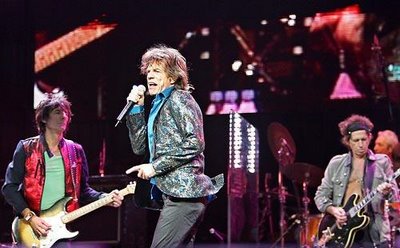 October 30, 2005
Key Arena, Seattle
I wrote this preview
, recapping all the Stones's previous Seattle-area engagements leading up to this stop on the
A Bigger Bang
tour. The new songs sounded good live, particularly "Rough Justice" and "Oh No Not You Again." Highlights: "Shattered," "She's So Cold," "Get Off of My Cloud," "Ruby Tuesday," "Night Time Is the Right Time," "Brown Sugar."
* * *
So after four concerts, I've heard them play 50 different songs, and at every concert they predictably played the crowd pleasers "Start Me Up," "Brown Sugar," "Honky Tonk Women," "Tumbling Dice," "Jumping Jack Flash" and "Satisfaction." Of the many songs I've never heard live, these are on my wish list for tonight: "Rip This Joint," "Respectable," "She Was Hot," "Sway," "Little T&A," "It Won't Take Long," "Hang Fire." I also wish for a dry, not-too-cold evening.
Afterwards, if I'm still up for it, I'm gonna see the
Detroit Cobras
. Wish list: "Hey Sailor," "He Did It," "Midnight Blue," "The Real Thing," "Shout Bamalama," "Brown Sugar."
I'll post a recap of this evening's show(s) in the next day or two.
***
Labels: Rock 'n' Roll, Rolling Stones