Ee-Chee-Ro! Ee-Chee-Ro!

Another year, another kickass season for
Ichiro
.
For today's game -- the M's finale in another last-place campaign -- Eliza and I made silkscreen shirts using the photo seen here. Unfortunately, the shirts didn't turn out as awesomely as Ichiro's '06 totals. Playing in all but one game, he hit .322, with 224 hits, 110 runs and 45 stolen bases (including some sort of consecutive-steals record), as well as making a smooth transition from right field to center. And he looked great doing it, wearing stylish
high socks
, a look he adopted in March while leading Japan to win the inaugural
World Baseball Classic
.
Ever since his 2001 Mariner debut, Ichiro has been my all-time favorite ballplayer. He brings excitement to every at-bat, his blazing speed flustering infielders with his many infield singles. I love how he racks up the hits -- I seem to cheer more for his batting stats than the Mariners' fortunes as a whole. And I dig his small-ball approach to the game, which, combined with his modest, enigmatic demeanor, makes him the antithesis of the fence-swinging, loud-mouthed, doped-up Barry Bonds.
Now, after a half-dozen MLB seasons, Ichiro has 1,354 career hits, averaging 226 per annum. With six consecutive 200-hit seasons, only Wade Boggs and Wee Willie Keeler own more (with seven and eight, respectively). We attended the October 2004 game when he tied, then broke George Sisler's 80-year-old single-season hits record of 257. Two days later, we went to his final '04 game when he set the new standard with hit number 262. Man, I'd love to see him become the first player in 60 years to hit .400, or challenge Joe DiMaggio's 56-game hitting streak...
I also wanna see him fight Darth Maul.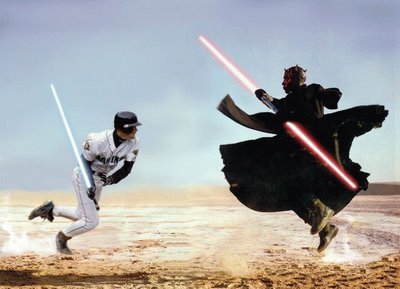 ***
Labels: Baseball, Ichiro, Seattle Mariners