Bart Cobain
Recently I stumbled across what appears to be a macabre
Simpsons
reference, one I haven't heard of elsewhere...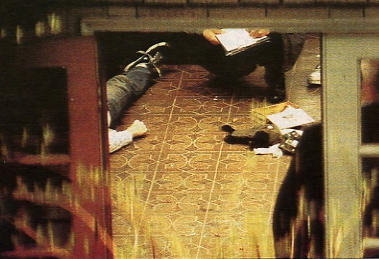 This lurid photo was taken on April 8, 1994, the day Kurt Cobain's corpse was discovered in his home, and it appeared on the front page of the next day's
Seattle Times
. Photographer Tom Reese supposedly climbed a tree in the park just outside the house to capture the image, with police investigating the suicide.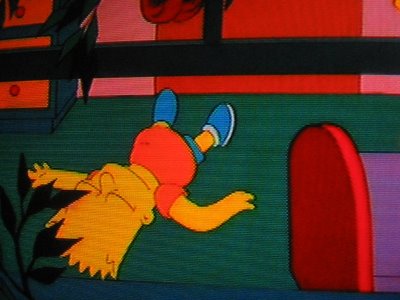 Less than three years later, on March 2, 1997, came the
Simpsons
episode
My Sister, My Sitter
, in which Lisa is assigned to babysit Bart. After Lisa accidentally breaks Bart's arm, the rebellious Bart locks himself in his bedroom and pounds his head on the door until he knocks himself out. Lisa climbs a tree outside Bart's window and finds him prone on the floor, in the same position as Cobain, as seen from the same through-the-window angle, with the same foliage in the foreground.
Too bad it wasn't Courtney Hole.
***
Labels: Nirvana, Rock 'n' Roll, The Simpsons, TV