"I'm Ridin' in Your Car/ You Turn on KJR"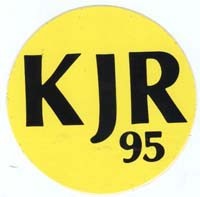 That's how I usually heard the opening line of the Pointer Sisters' "Fire" when I was a kid, because I usually listened to Seattle's KJR (AM 950, with the then-ubiquitous window decal seen here, now an
all-sports station
). Being the impressionable sort, I thought, "Wow, that's cool that my favorite station is so famous!" Shortly thereafter, when I heard the song rival Top-40 station KING (AM 1090, now a
"progressive talk" station
), the otherwise identical tune clumsily began: "I'm ridin' in your car/ You turn on
Eleven-King
." Being the skeptical sort, I thought, "Wow, what a lame marketing ploy, tampering with a song in such a cheap manner, something Bruce Springsteen probably never intended when he wrote the song."
Okay, so maybe that's not exactly what I thought back then, but that's pretty much what I think now. I've read on the internets that "Fire" was similarly customized for San Francisco's KFRC, Washington's WPGC, Boston's WRKO, Portland's KGW, WHBQ in Memphis and K-Earth in Los Angeles. There were probably other versions too, no doubt helping "Fire" become a #2 hit in 1979. I don't know if this regional song-editing was cooked up by the stations or the record label, or if the Pointers themselves sang the alternate lyrics, but to my young ears, the "KJR" edit sounded seamless.
Over the next decade or so I heard a few other similarly altered tunes, including Starship's all-time stinker "We Built This City" and Nena's "99 Luftballoons," and I've read about a dozen or so more, dating back to the late '50s. Until recently, the last time I heard such an alteration was 17 years ago: the CD version of Iggy Pop's "Candy" opens with the spoken-word line "It's a rainy afternoon in 1990," though the version I heard on some local station went "It's a rainy afternoon in
Seattle
."
Now,
as I reluctantly confessed before
, I've lately been listening to local country stations, where these market-specific edits are apparently still popular. One of the big current hits is Craig Morgan's "Little Bit of Life," which, if heard on
The Wolf
, contains the lyric "A little bit o' back seat/ A little bit o' moon/ A little bit o'
The Wolf
/ Goin' boom, boom, boom." Of course, on rival station
KMPS
, it goes "A little bit o'
KMPS
/ Goin' boom, boom, boom." (If it isn't obvious, it's the word "radio" that's substituted by the station names.)
Then there's another current song, Montgomery Gentry's "Lucky Man," also in heavy rotation. "I have days where I hate my job," it opens, "This little town and the whole world too/ Last Sunday when my
Seahawks
lost/ Lord it put me in a bad mood."
There's no possible way some big Nashville act is gonna embrace anything from Seattle. Turns out the band is from Kentucky, where they cheer for the nearby Cincinnati Bengals. According to
this
, "'Lucky Man' has been edited with 81 different college and professional sports teams in over 60 markets, and each version has been serviced to the country radio station in those cities. The second line of the song reads 'Last Sunday when my Bengals lost/ Lord it put me in a bad mood.' In the edited versions, Montgomery Gentry replaced 'Bengals' with every team in the NFL and Major League Baseball, several from the National Hockey League and numerous colleges."
WFT?
Like, it's one thing to pander to individual markets or stations, but it's downright shameless to indiscriminately cast aside your supposed favorite team for 81 others...
These days, on the rare occasion I stumble across the Pointer Sisters' "Fire," the original, non-rhyming lyric always sounds weird to me: "I'm riding in your car/ You turn on
the radio
."
***
Labels: Hockey, Rock 'n' Roll