Happy 34th, Ichiro!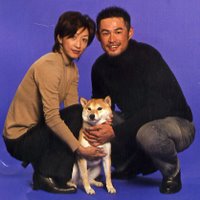 Ichiro hits the big three-four today. That's him with his wife Yumiko and their dog Ikkyu.
Ichiro Fun Facts (Non-Baseball):
Favorite Music: Snoop Dogg
Favorite Movie:
Love Actually
Favorite TV Show:
Lost
Favorite Food: rice ball
On Seattle: "I like the fact that you can see water everywhere you look. I don't think you can find that kind of scenery anywhere else in the U.S. That's something very special about this city."
Labels: Baseball, Ichiro, Seattle Mariners