Postage Stamp of the Week: Elvis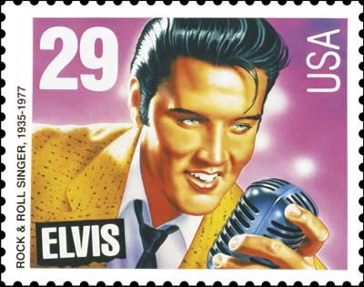 Had a bloated, doped-up Elvis not died on his bathroom's shag carpet, gold pajama bottoms around his ankles while face-down in his own vomit, he would've turned 73 this Tuesday.
Two years ago, upon the King's 71st birthday, I wrote about
Elvis in Seattle
(prompting many amusing
comments
). Then last year I wrote
this
, which nobody read.
Anyhoo, the Postal Service issued the above stamp in 1993, and I issued the stamp below in 1994.
Smells like blue suede shoes.