Bubblegum Card of the Week: Fuck Face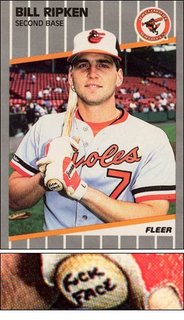 Billy, Billy, Billy.
Other than being Cal Jr.'s little brother, Billy Ripken is best known for his infamous 1989 Fleer card. In the photo, for whatever reason, "Fuck Face" was hand-written on the knob of his bat. Here's a confirmation on
Snopes.com
, a few more details via
Wikipedia
, and its #1 standing on this list of
Top Ten Error Cards
.
Otherwise, this card is an example of the myriad ugly designs that plagued the glut of cards issued in the '80s, and largely continues to this day.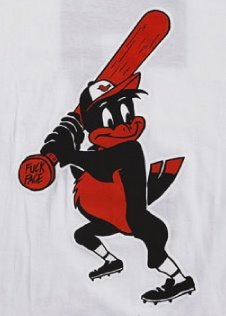 Still, the card inspired this
killer T-shirt
...
And finally, along similar lines, I love this hilarious video tribute to the Baltimore Oriole...