Win One for the Fucker!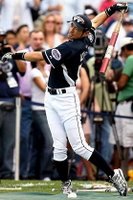 This one
's new to me -- Ichiro's now-annual pregame All-Star pep talk with his American League teammates. His filthy speech has apparently worked in all eight of the games he's played in, including tonight's, excluding that bullshit 2002 "tie"...
This here pic's from yesterday's BP.
Here's a cool ASG
nugget
from one of my favorite writers, Paul Lukas:
"Seattle's Ruppert Jones achieved a bizarre dual [ASG uni] distinction: When he pinch-hit in the third inning [of the '77 game], he became the first Mariner ever to appear in an All-Star Game. But he was wearing a Blue Jays helmet, so he also became the first player ever to wear Blue Jays gear in an All-Star Game (Toronto's lone representative on the AL roster, Ron Fairly, didn't appear until four innings later)."
For proof, here's a screen-snag:
As an aside, I'm glad that patronizing b-hole Fairly is no longer a Mariner announcer -- good riddance.
Anyway, here's my old
Mariner All-Stars
blog entry, once again updated in the comments section with this year's info.
Labels: Baseball, Ichiro, Seattle Mariners