Happy 40th, Banana Splits!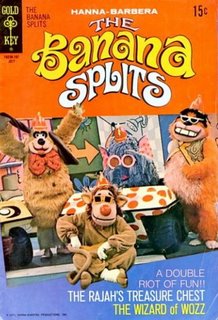 Fleegle, Bingo, Drooper and Snorky hit the big four-oh today.
The Banana Splits Adventure Hour
premiered on NBC on September 7, 1968, and ran on Saturday-morning TV for 31 episodes across two years. The show was later chopped into half-hour episodes for syndicated reruns (
The Banana Splits and Friends Show
), which I watched everyday after school on channel 11.
Here's a sample:
Sid & Marty Krofft designed the sets and costumes of the frenetic Hanna-Barbera production, which combined elements of
A Hard Day's Night
, the Marx Brothers,
Laugh-In
and bubblegum. Both
Liz Phair
and the
Dickies
later covered the show's infectious theme song, while
Girl Trouble
nailed "Gonna Find a Cave" for the legendary
Sub Pop 200
compilation. My favorite Splits tune is eerie ballad "
Wait 'til Tomorrow
," while my second favorite is the upbeat "We're the Banana Splits," as illustrated in this ridiculous video:
The show also included some cheapo Hanna-Barbera cartoons and a kinda cool live-action serial,
Danger Island
, which had me and my elementary-school pals yelling "Uh-oh, Chongo!" But the Splits' longest-lasting impression on me is my ongoing, largely unfulfilled desire to play drums. No, it's not because of Ringo, John Bonham or Buddy Rich. I owe it all to
Bingo
, the Ray Charles-esque orange gorilla.
Turns out the Cartoon Network has just revived the franchise this past week, with comedy shorts and videos, an upcoming CD, and of course, a
new site
. From what I've seen, it all looks fairly faithful to the original:
Still, I've yet to hear the old catchphrase, "Hooooold the bus!"