Maine Was Killer Again
Eliza and I did pretty much the same cool stuff in Maine as
last time
-- staying with her folks on North Haven, hitting rocks with driftwood bats, playing clay-court tennis, eating lobster rolls, napping, swimming in the chilly ocean, napping, playing Scrabble, napping, etc. Like before, the Red Sox happened to be in Seattle while we were in Maine -- it was fun hearing the trains outside Safeco Field in the background of the Sox radio broadcasts. Unlike last time, we also got to visit our friend
Megan
, former
Lobster Queen
Sea Goddess of the local
lobster jam
.
As with any trip, I was on the lookout for goofy regional products. This time I came across
Whoopie Pies
,
Crazy Clams
(above), and
Lucky Lobsters
(below). None of 'em are as fun as their names, though I appreciate that the lobster has the same sugar "eyes" as the
Bigfoot cake
.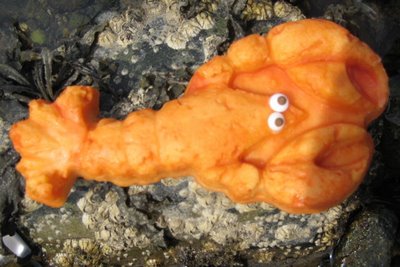 Before heading home we spent a couple days in Boston. Between multiple trips to
Dunky's
(because there
aren't
any in Seattle), I met up with
Hell Drivers filmmaker
/
fellow blogger
Darren Garnick at
Watch City Brewing
. He kindly presented me with an M's-era Randy Johnson figurine, though I secretly wished he also brought along his
semi-famous baby
, the one who'd been photographed with Obama, McCain, Hilary et al.
The trip's biggest highlight was my first-ever game at Fenway Park. Though
I toured Fenway in '04
, it simply wasn't the same as attending an actual game there. For the record, the visiting Angels won, 9-2, in what proved to be
Manny Ramirez's final game as a Red Sock
.
Yes, the historic ballpark is indisputably awesome, and its
Fenway Franks
are hard to beat. However, I haven't much cared for the Sox since they blew it in '86, and with their recent success and ensuing overexposure, I'm now pretty much sick of the Sox and their insufferable "
Nation
." Not only was nearly everyone in the 400-somethingth consecutive sellout crowd decked out in Sox garb (much of which no doubt purchased at the
Kmart-sized team store
), but there was Sox gear on almost everybody we saw in New England. Still, I got to hand it to the rabid fans, who all stayed long after the game turned into a laugher, and at least through the eighth inning sing-along of that stupid fucking "
Sweet Caroline
" (an inexplicable tradition that Susan Orlean examines
here
). A far better Sox song is the Boston-specific garage-rock classic "
Dirty Water
," though it apparently isn't played if the Sox lose.
An even better local song is "
Roadrunner
," albeit a more suburban one. I couldn't help but sing it to myself throughout our short stay with Eliza's sister and her family in nearby Waltham. It amused me to drive on
Route 128
past a
Stop & Shop
(alas, with the radio
off
, in the muggy summer, in broad daylight, in a minivan).
Alright, bye bye!