BIG-FOOT EXIST!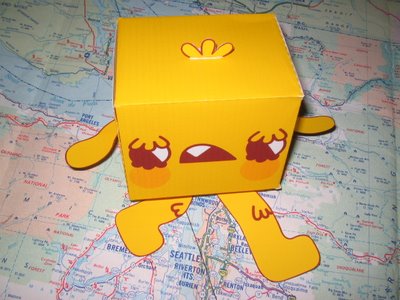 The other day I stumbled across this
free downloadable Bigfoot figure
. As per the instructions, I printed him out, cut 'n' folded 'n' pasted him, and emailed the above photo to his designer,
Paul Shih
. Though I couldn't think of anything more clever than having the cubed critter stomp across my road atlas, Paul still
posted him on his site
, alongside other submissions. No, he doesn't look much like the typical, mythological Bigfoot, but I still like him, and he's a welcome addition to my growing collection of Bigfoot figures.
BIG-FOOT EXIST!
***
Labels: Bigfoot