Dang Ol' Rain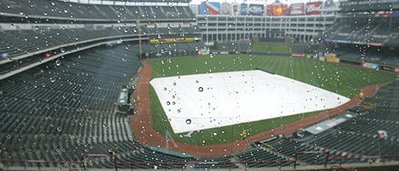 Thanks to my
Grand Salami
connection, I scored a press pass to today's Mariners-Rangers game. I got there a couple hours early and ate a buffet-style breakfast in the press box, sitting a few tables away from
Dave Niehaus
and
Rick Rizzs
. (Niehaus bussed his own table, which seemed pretty cool to me.) Afterwards I went down to the photo pit by the M's dugout to inspect the field, and then briefly wandered among players and coaches in the Mariner clubhouse. I spent the final hour before game time in the press box with a bunch of other reporters -- many Japanese -- all of us typing away on our laptops. But it had been a drizzly morning, and there wasn't much pre-game action on the tarp-covered field. By the time of its scheduled 1:05 start, the game was officially rained out. Balls.
The weather didn't really seem all that bad, but it soon turned nasty -- high winds, "severe thunderstorms," tornado and flash flood warnings, reports of giant hail, etc. People were killed. No wonder the crap country station here is called the
Texas Twister
. Anyway, I holed up in my room and watched cable and took a nice long nap.
After things calmed down I drove out for dinner at
Luby's
. I desperately wanted the
Lu Ann Platter
, but apparently it's not on the menu anymore. The place is essentially a chain cafeteria, with all the charm of a nursing home dining room. I choked down a painfully bland chicken-fried steak and high-tailed it outta there.
Across the street I browsed at
Half-Price Books
, where I scored a used copy of
Ichiro Magic!
. Turns out that the new 'n' used bookstore chain is based here in Dallas (as is the ubiquitous
7-Eleven
, where I bought some bananas the other day).
My motel is right by the
BPAA
HQ, hence my picture here of their cool sign. I wish I could take credit for above photo of what it looked like today through a rained-on press box window, but I can't.
A final note: I've written about the inspiration for
The Dude
, but this
Fort Worth Weekly
article explains the inspiration for
Walter
.