We Hardly Knew Ye: Sunset Bowl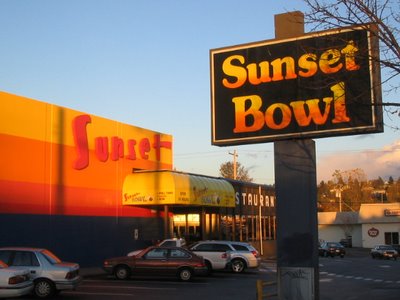 Seattle's best bowling alley will close in April.
Two years ago
I wrote this
piece on Sunset Bowl for Seattlest, which apparently
broke the news
yesterday. (BWT, the photo here of the Sunset
at
sunset accompanying both Seattlest pieces is mine, as was the red Honda Accord seen in the parking lot.)
More coverage in the
Seattle Times
and the
P-I
, and on the
Slog
-- dig those comments.
Not that I was much help, since I haven't bowled there since December '06.