Ahoy, Arrgh, Avast, etc.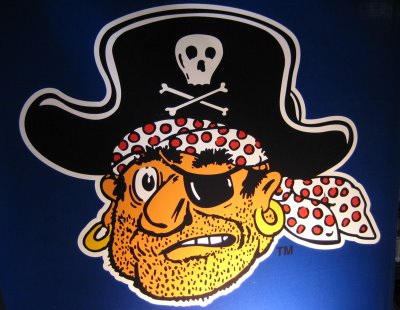 In last night's baseball match, the Nationals defeated the
Ny Mets squadron
,
1-0
. Woo!
Then, during today's four-hour drive from D.C. to Pittsburgh (via a Maryland
Dunky
), I switched my Nats cap for my Pirates cap... Literally! On my head!!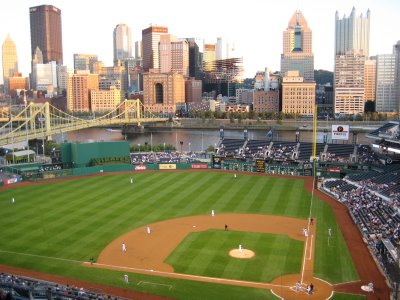 Lotsa cool imagery at the highly photogenic
PNC Park
, where the Bucs have essentially
five
mascots. Of course, there's the
Pirate Parrot
(who scoots around on a Razor), but also Captain Jolly Rodger and the three Pierogies, who routinely run a footrace in the middle of the sixth. Ironic that I couldn't find any iconic pierogies at any of the food concessions -- dang -- but non-ironic was the ample
Iron City
.
The Pirates play up their nickname more than any team I know, what with their
Pirates of the Caribbean
-inspired CGI cartoons, the
pirate jargon
, and "
Drunken Sailor
" played by the organist (or sampled by a reasonable facsimile thereof). I suppose they've also subconsciously inspired my favicon.
I've always dug the Pirates, and have fond memories of cheering them on to their '79 World Series victory (that's their championship "banner," above). My favorite player was
Dave "The Cobra" Parker
, though I was sad to see that team hasn't retired his number (the current #39 is
Brandon Moss
). Also sad that Pittsburgh has such a long spell of misfortune (at least in baseball -- faring much better are the Steelers, whose jerseys were almost as numerous at tonight's game as the Pirates).
For the record: The Buccos clobbered the Dodgers,
15-8
, before a measly 11,883 fans.
Confidential to JP: The Pirates got their nickname in 1891, when it was said that they had "pirated" away a player from another team in a contract dispute. They are not, ahem, "butt pirates."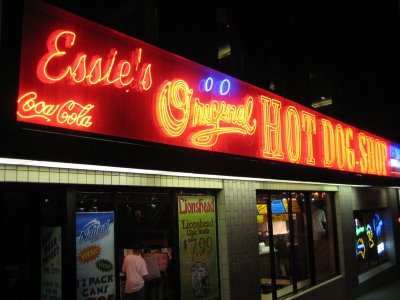 After the game I dined at the lauded
Original Hot Dog Shop
, where I also picked up a
Yuengling
sixer. It was good.
Meanwhile, back in Seattle (KC, actually), Ichiro the Killer tied Wee Willie Keeler for the Major League record of most consecutive 200-hit seasons, with
eight
.
Now that's what I call killer. Arrgh!