Extreme Nationalism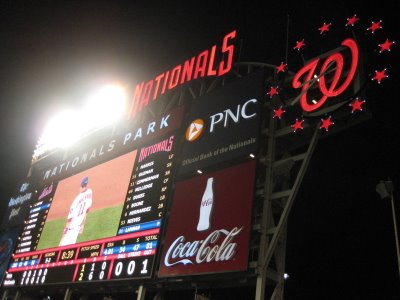 Tonight I attended my first Washington Nationals home game, during their maiden season in the new
Nationals Park
.
Right away it reminded me of San Diego's
Petco Park
, with its whitish concrete and decidedly non-retro look and big HD TVs everywhere you look. The statest-of-the-artest outfield scoreboard is simply one massive computer screen, and along with multiple smaller computer scoreboards around the place, I felt like I was inside a giant video game. Interesting that the infield scoreboards list every batter's OBP and SLG, something I'd never seen before (or maybe just never noticed, not until reading
Moneyball
on my flight out here today).
Despite all the high-tech razzle-dazzle, there was a lack of electricity in the place. Even with the new stadium, it's apparently difficult to draw a big noisy crowd for the worst team in baseball, especially on a late-season Monday night. If it weren't for the conspicuous Mets fans in attendance, there might have been tumbleweeds rolling through the concourses. It was slow enough that a bored usher actually went out of his way to scold me after I leaned over a railing to get this shot: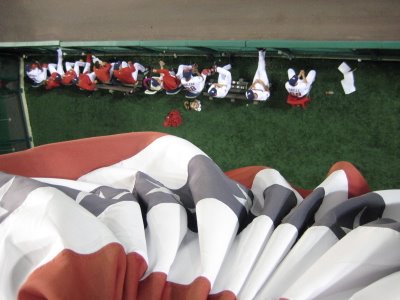 It's the Nationals' bullpen, just beyond the right field wall.
A group called
Strike Out Exxon
, which included a guy in a polar bear costume, was out in force, protesting the corporation's heavy advertising throughout this so called "green" stadium (I noticed some green roofing, but there seemed to be just as much instantly generated garbage as at any other stadium).
The food was decent -- I ate a half-smoke from
Ben's Chili Bowl
, a
W pretzel
, and a
Nats Dog
(belch) -- and I love any stadium that you can take the
subway
to.
For those keeping score, Gnats won,
7-2
. I'm going back tomorrow.