Bubblegum Card of the Week: Steve Garvey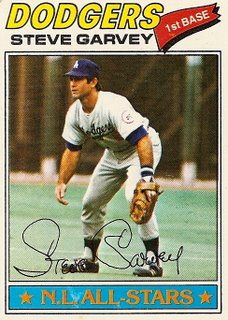 Steve Garvey is known for his hairy
Popeye forearms
, his high-profile strife with ex-wife Cyndy Garvey (who later wrote a
tell-all book
), and acting in such fare as
Baywatch
,
Star Trek: The Next Generation
, and, uh,
Bloodfist VI: Ground Zero
.
Oh, and he played some ball too. His
impressive career
apparently wasn't quite impressive enough for Cooperstown (
Steve Carlton
is the only "Steve" in the Hall), but it more than qualifies him to captain the squad I've assembled below.
Ladies and gentlemen, your All-Steve Team:
P -
Steve Carlton
C -
Steve Yeager
1B -
Steve Garvey
2B -
Steve Sax
3B -
Steve Buechele
SS -
Steve Dillard
OF -
Steve Finley
OF -
Steve Henderson
OF -
Steve Kemp
The card is 1977 Topps #400.