Steve Does Dallas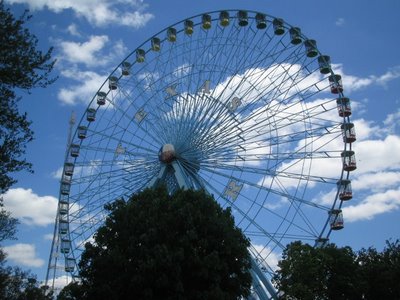 Today started off at
Goff's
with a kickass Goffburger -- the best dang thang I've eaten yet in Texass. Then I drove over to
Fair Park
, where I viewed the
Cotton Bowl
and North America's biggest ferris wheel, the Texas Star (above). I desperately wanted to say "howdy" to
Big Tex
, but apparently he only shows up during the massive
State Fair
. Then I headed over to
Dealey Plaza
for a stroll across the
grassy knoll
(still quite grassy!), where some
conspiracy
nuts were selling their books and DVDs off a card table. Then it was over to
Reunion Tower
, perhaps the lamest of all observation decks I've, like, decked. Despite unnecessarily tight security, bad '80s decor, and an overall lousy presentation, the view was the tits. On my way outta town I drove through the infamous
triple underpass
.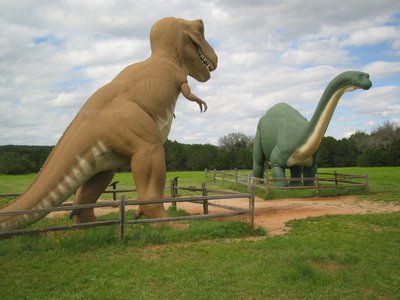 After doing the Big D, I took the scenic route to Austin, via Fort Worth (and a killer BBQ beef sandwich at
Angelo's
),
Dinosaur Valley State Park
(seen above, down the road apiece from the
Creation Evidence Museum
-- Baby Jesus made dinosaurs!), Killeen (site of the
Luby's Massacre
, whose unprecedented bloodshed was surpassed just last week),
Crawford
(home of
Ted Nugent
, and occasionally
George W. B-hole
), and Waco (home the late
David Koresh
). Tonight and tomorrow night I'm here in Austin, where I'm anticipating what this much-hyped town has to offer.
Don't fuck with Texas.