Texas in the the Spring
I've heard there's only
steers and queers
in Texas, but that's simply not true. I'm home now, but I wanted to tangle up some loose ends...
See any live music?
Basically, no. I peeked at bands through the front windows of several bars on Austin's Sixth Avenue, and I also glimpsed bands playing at San Antonio's Fiesta and some other street fair in Houston, but I was never really in a live-music mood, and nobody I'm particularly interested in played anywhere I was, and I didn't bother seeking out anything else. However, I drove my
rental car
about 700 miles during the week, listening to lotsa Texas artists along the way: Waylon Jennings and Willie Nelson, ZZ Top and the Butthole Surfers. I also listened to songs from the
True Stories
soundtrack, as I halfway imagined myself cruising around Texas like David Byrne (tho' my economy car wasn't a convertible, and I wore my M's cap instead of a Stetson).
What else didn't I see?
I didn't see
Bigfoot
, even if
many
others
have
... I saw no actual
Texas Ranger
(except for maybe the law-enforcement guy who pulled me over for doing 64 in a 45 zone but didn't give me a ticket 'cause of my Jedi mind shit, tho' I couldn't tell)... I'm not entirely sure if I saw an
armadillo
-- I'd like to think so, but squashed critters are hard to identify at 70 m.p.h... I didn't see no Cadillac cars with hood-mounted horns (though I saw a pair on the cab of a beater pickup truck, and on the interior walls of multiple eateries, and I even saw a pair on the head of an actual steer in a field by the highway)... Saw no oil rigs, other than a few ersatz derricks promoting businesses along the highway... Sadly, I missed the
New Braunfels Snake Farm
and Houston's
Beer Can House
.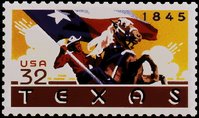 Is everything really bigger in Texas?
Not my discount motel rooms. But Houston and Dallas/Fort Worth struck me as incredibly vast, sprawling mazes of pickup-clogged freeways (surprisingly, I didn't see nearly as many Hummers as I do in Seattle)... Also, both metropolises are served by two of the hugest airports I've ever been to, and each has relatively smaller (yet still relatively major) in-city airports as well.
Any other impressions?
Everywhere I went was much greener than I expected, but maybe just 'cause it's spring?... It occurred to me is that Texas is the state with the most iconic, instantly recognizable outline, as it's incorporated into
grills
,
pools
,
logos
,
food
, etc. It's everywhere.
So, the Lone Star state gets seven stars... And that's it for Steve's
Texxas Jam
'07.