Steve, Austin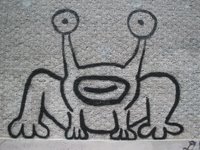 My day began with coffee and a burrito at the supremely, um, for lack of a less-trite word,
funky
cafe,
Spider House
. (Confidential to KR: thanks for the tip!)
Then I strolled through the neighborhood adjacent to the
University of Texas
campus, where I took this here pic of a
Daniel Johnston
wall painting. On the campus itself, I was hoping to visit the observation deck atop the
University of Texas Tower
(from where sniper
Charles Whitman
shot a bunch of people in '66), but it was closed today. Instead I ate a deliciously simple grilled-cheese sandwich at
Dirty Martin's
.
Two of my favorite movies were shot here by local guy
Richard Linklater
(before he started to
suck
). The town's vibe still rings true with
Slacker
, filmed nearly 20 years ago, with all its freaky folks. Traces of
Dazed and Confused
, set over 30 years ago, are less apparent.
Top Notch
, where Wooderson hilariously hit on
Beck's wife
, is still here, but
Westenfield Park
, home of the beer bust, has no
moon tower
(tho' I've seen others around town).
Dart Bowl
has lotsa cool bowling memorabilia... I bought the new
Detroit Cobras
CD at
Cheapo Texas
... Craving some relatively healthy food, I was delighted to stumble across the monster
Whole Foods flagship store
.
Tonight I was torn between
bats at the Dell Diamond
and
bats at the Congress Avenue Bridge
. Last night I checked out the
Round Rock Express
's suburban ballpark, which is pretty fantastic for a AAA venue, but tonight's game's opportunity costs were too high. Fortunately, the live bats didn't disappoint. Standing under the bridge 'til sundown was like watching a pot come to a boil, but eventually thousands of 'em came pouring out for a good 20 minutes... Incidentally, without any thought, this morning I donned my
Batman T-shirt
, which must've made tonight's few hundred other bat-fans assume I was some bat-obsessed lunatic. However, after dinner at
Hut's
, some guy on
Sixth Street
yelled at me that I looked like a child molester.
Keep Austin weird
.
***
Labels: Baseball, Food, Movies, Rock 'n' Roll, Travel