Happy 61st, David!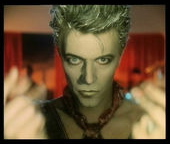 David Bowie
hits the big six-one today.
I saw him play the Tacoma Dome in 1990 and it was killer. His
Ziggy Stardust
album is one of my all-time favorites, though I must say that
Never Let Me Down
is a guilty pleasure.
He has the same birthday as Elvis.