Baseball Bonkers!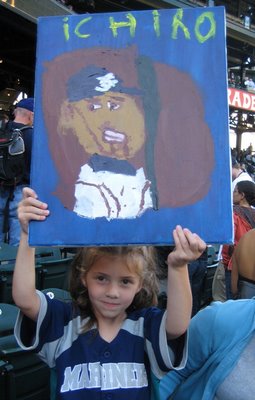 Check out this cute kid and her Ichiro portrait that I snapped at today's 2008 Mariners finale.
The M's beat the A's,
4-3
, thereby avoiding the distinction of '08's worst team (the Nationals lost 102 games, the Mariners lost 101). Still, 2008 goes down as the lousiest Mariner season in 25 years, and the M's became the first team in history with a $100 million payroll to lose 100 games. Ouch.
Regardless, I obsessed over baseball more this season than possibly any other, beginning with the number of games I attended. Starting on opening day and concluding today, I went to ten games at Safeco, plus seven games in other cities (Boston, D.C., Pittsburgh, Cleveland and Detroit), and also a minor league game in Tacoma, and I kept score at most of 'em... So maybe I didn't go to
that
many games, but that's a lot for me.
My travels last week brought my current-stadiums-I've-been-to-games-at total to 20. Here they are, in descending order of preference:
Oriole Park at Camden Yards (Baltimore Orioles)
AT&T Park (San Francisco Giants)
Fenway Park (Boston Red Sox)
Safeco Field (Seattle Mariners)
Yankee Stadium (New York Yankees)
PNC Park (Pittsburgh Pirates)
Minute Maid Park (Houston Astros)
Shea Stadium (New York Mets)
Comerica Park (Detroit Tigers)
Progressive Field (Cleveland Indians)
PETCO Park (San Diego Padres)
Nationals Park (Washington Nationals)
Citizens Bank Park (Philadelphia Phillies)
Coors Field (Colorado Rockies)
Chase Field (Arizona Diamondbacks)
Great American Ball Park (Cincinnati Reds)
Dodger Stadium (Los Angeles Dodgers)
Rangers Ballpark in Arlington (Texas Rangers)
Oakland-Alameda County Coliseum (Oakland A's)
Angel Stadium of Anaheim (Los Angeles Angels of Anaheim)
That list will drop to 18 venues when next season starts, due to the simultaneous closings of Yankee and Shea stadiums, which will move over to my defunct-stadiums-I've-been-to-games-at list. So far that list includes Memorial Stadium (Orioles), Qualcomm Stadium (Padres), Candlestick Park (Giants), and the Kingdome (M's).
I've also bought more baseball cards this year than any time since the '80s, and about the only books I've read so far this year have been baseball related:
Sayonara Home Run!
by John Gall and Gary Engle,
You Gotta Have Wa
and
The Samurai Way of Baseball
by Robert Whiting, and most recently,
Moneyball: The Art of Winning an Unfair Game
by Michael Lewis. I certainly listened to more ballgames games on the radio this season than any other, and one of my favorite albums so far this year is by the
Baseball Project
.
As for
Ichiro
, after eight major league seasons, he's amassed 1,805 hits and a career batting average of .331. Only Wee Willie Keeler has also had at least 200 hits in eight consecutive seasons (1894-1901), though Ichiro's the only one to do so starting with his rookie season. And, counting his 1,278 hits playing pro ball in Japan, Ichiro passed the 3,000 hit mark in July.
I put together a killer album of 65 Ichiro baseball cards, plus I started an Ichiro clippings/photo file, much of which will eventually see the light of day on my upcoming Ichiro fan page. I hope to post it while he's still a Mariner.
Labels: Baseball, Ichiro, Seattle Mariners, Travel