Hello Cleveland!
Are these condiments racist?
More on that in a moment.
Today began at
Pierogies Plus
, a converted gas station in suburban Pittsburgh, where I got a dozen of the potato-and-cheese, swimming in melted butter and covered in diced onions. Tasty, though not amazing. The place had
Billy Graham
brochures by the register, and a bible passage was printed on my receipt.
Next up was Canton and the
Pro Football Hall of Fame
. Though
four former Seahawks
are enshrined,
Steve Largent
is the only 'baller primarily identified with the 'Hawks; the others gained fame elsewhere before hobbling through the Kingdome shortly before retirement. Still, the HoF has 2005 MVP Shawn Alexander's full rig on display... Elsewhere, a case dedicated to Super Bowl entertainment includes Paul Stanley's bass from
Kiss's performance in '99
; excluded is any reference to
Up with People
. Lots of patriotic overtones, with a special
Pat "Friendly Fire" Tillman
memorial. Conspicuously absent from the large non-NFL pro league display is the XFL, and its most famous player,
He Hate Me
. Biggest revelation: I'd never heard of the Baltimore Colts' ancestor, the 1946
Miami Seahawks
.
Hello Cleveland, and
Jacobs
Progressive Field. I didn't see the
left field drummer guy
, and I didn't know of any signature ballpark food to seek out. However, there were unusually long-ass lines for the nachos, which look like the same crap I've seen at every other ballpark, movie theater, and carnival. I passed.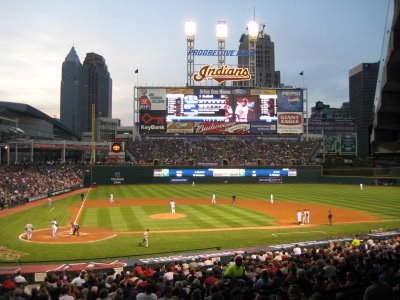 Random notes: the circa-1994 stadium feels slightly dated in this post-Camden era -- it could use a light facelift, updating the weesh signage and cheesy banners and whatnot... I shunned my free promotional
Asdrubal Cabrera
bobblehead, but enjoyed the postgame fireworks, choreographed with a medley of '80s hits... There was a fight! After getting plunked by Fausto Carmona, Gary Sheffield menacingly strolled to first, wielding his bat the whole way. Then, after a pickoff move, Sheffield stormed the mound, and the benches cleared... Seattle-born, Everett-raised Grady Sizemore dinged a dinger... Cleveland has the only ladies-specific souvenir shop I've seen, Tribe Pride:
For Her
...
Chief Wahoo
is everywhere, including the mayonnaise dispensers. I appreciate his retro, we-didn't-know-any-better-at-the-time appeal, but today he just seems obnoxious, and when you get right down to it, offensive. Seriously, no outfit could pull off introducing such a cringe-inducing caricature today -- he's apparently grandfathered in as racially acceptable. And yet, I have to admit, I'm tempted to buy a cap with his goofy redskinned likeness, but I won't.
A proposed alternative: rebrand the team the
Cleveland Spiders
-- a killer name with historical precedence. Of course, their mascot would be
Spider-Man
-- far better than
Slider
, the Indians' shitty pink mascot, whose all-around awfulness is nearly as offensive as Chief Wahoo. There's just one hitch:
Spidey's a Mets fan
.
For the record, the Tribe prevailed,
6-5
. Thus far on my rust belt road trip, the home teams have gone 4-0.
Tomorrow I'm gonna see
this
(NFSW!).