Motor City is Burning
I always stop to take a picture of any "Steve's" I run across;
this one
in Cleveland is by far the best. And the front window proved prophetic: Steve's (my) lunch today consisted of coffee and hot dogs. For dessert, Steve (I mean,
I
) drove to the nearby Elmwood Home Bakery (
as seen in the awesome American Splendor
), but it was closed today.
Headed out west on the Ohio Turnpike, where I checked out the beautiful downtown home of the
Toledo Mudhens
(Tacoma should do something similar for the Rainiers). Then up into Michigan (bringing my states-I've-visited count to 34), driving past the monstrous
Michigan Stadium
and the communal houses where the Stooges and the MC5 lived in Ann Arbor, and then passing the
Uniroyal Giant Tire
along I-94 on the way into Detroit -- time to
roll 'em up
.
Here's what's left of
Tiger Stadium
, which I wish I got to see intact before its demolition began earlier this year: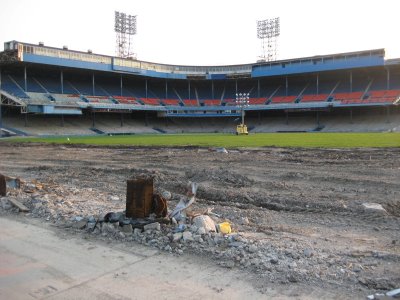 And the exterior: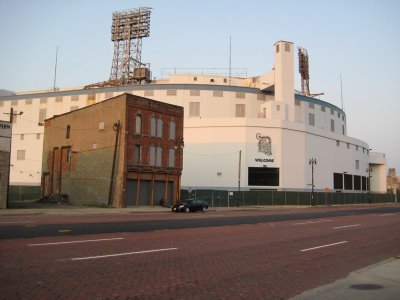 A few blocks away is the creepy
Michigan Central Station
, built in 1913, closed in 1988, and has since been heavily stripped and vandalized, and it seems to be crumbling.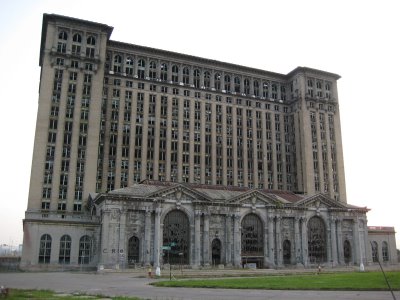 It was fenced-and-barbed-wired off, but I heard the occasional breaking of glass coming from deep within, which spooked me in a haunted-house sort of way.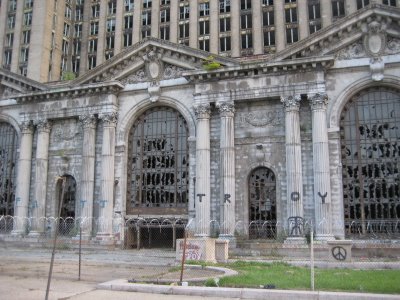 My inner-city driving tour also took me past the
Hotel Yorba
, the
Grande Ballroom
, and
Hitsville U.S.A.
. Downtown, I walked around the outside of the
new Tigers stadium
(where, oddly enough, I saw a stray cat scurrying down a concourse), and
Ford Field
(where the
Hawks and Stones
appeared at Super Bowl XL).
Finally, I took a spin on the clunky
People Mover
. I've heard it described as a monorail, but I can confirm that it's not. The cars runs on two rails.