Postage Stamp of the Week: Football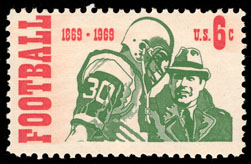 ARE YOU READY FOR THE FOOTBALL?!?
Though a rhetorical question, I do believe I'm adequately prepared for tomorrow's Seahawks v. Packers playoff game. I have no prior engagements, and our TV reception is decent. Should I get hungry, I'll have my favorite
bean 'n' cheese burritos
on hand. Win or lose, it oughta be a good one.
This 1969 stamp with the clip-art-like image commemorates the centennial of the first-ever college football game. Rutgers beat Princeton, six goals to four.
The 12th Man is Stupid™.